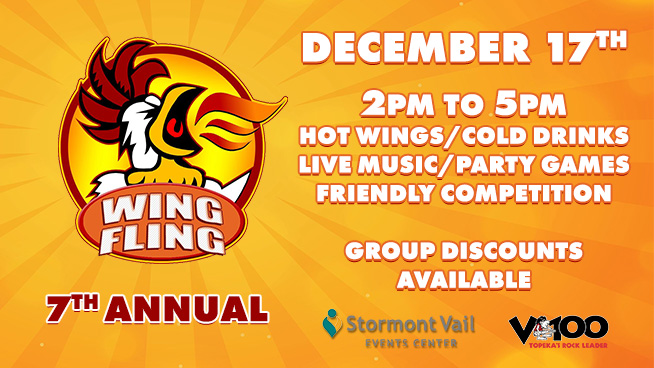 The annual hot wing festival, Wing Fling, is back at the Stormont Vail Events Center on December 18th!
Wing Fling is back!! Saturday, December 17th from 2 to 5PM inside the Stormont Vail Events Center! Enjoy wings from local and national restaurants, as they compete for one of five titles: "Hot Wing King", "BBQ Wing King", "Twisted Wing King" – each chosen by a panel of judges – " Judge's Best Overall" or "Wing Fling King", chosen by the event patrons as the People's Choice.
That's right, ALL YOU CAN EAT WINGS! Enjoy live music, watch sporting events in the big screen, and play party games like cornhole, ladder toss, beer pong, etc. Both alcoholic and non-alcoholic beverages will be available for purchase, including Happy Basset Brewing's custom Wing Fling brew, Blonde Pomshell!