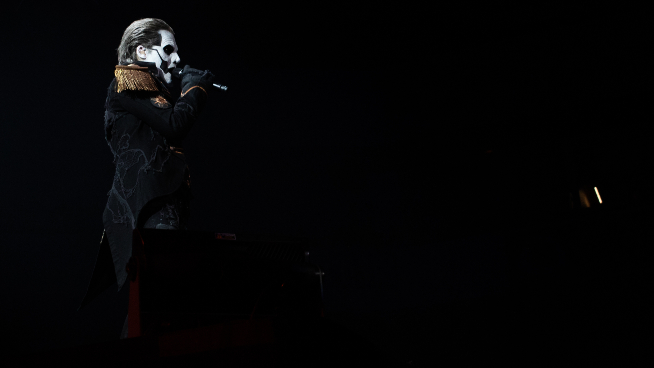 Ghost, fronted by Papa Emeritus IV, performed a ritual in Kansas City last night. Papa and the Nameless Ghouls brought it. Having two years off because of the pandemic didn't slow these satanic rockers down one bit. They performed hit songs like "Cirice" "Square Hammer" and "Rats" along with tunes from their forthcoming album IMPERA like "Hunter's Moon" and the currently unreleased track "Kaisarion." One thing I love about a Ghost performance is that they have awesome set design and an interesting faux stain glass window backdrop that really set the mood without the need for big screens. If you missed this ritual, you missed one of the best shows of the year. 
Before Ghost, Volbeat took the stage and crushed it. I've seen them a couple of times in the past, but this time they were flawless and had a really great set full of hits and new tunes. They also had massive video boards where concert goers got to see themselves rocking out on the big screen and that only adds to a fans experience.
Twin Temple opened the night, and if I'm honest I went in with zero expectations, but they were a fun time. If you think Ghost can be irreverent at times, these guys can be twice as irreverent sometimes.