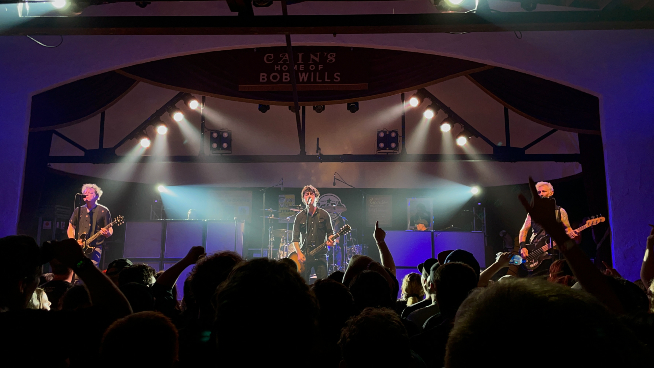 "It's so wonderful to be alive."
Being thankful for life, community, and music was the main theme from Green Day's triumphant return to the stage with a surprise warm up show at Cain's Ballroom in Tulsa, OK before the band heads out on the Hella Mega Tour with their friends in Weezer and Fall Out Boy.
With just over 24 hours notice, Green Day announced a surprise show and I managed to grab a ticket before the show sold out. There was a stipulation though, you had to be fully vaccinated in order to attend the show. While that was off putting to many people, there was no shortage of vaccinated fans that traveled from all over to see one of their favorite bands play their first show since the pandemic began in March of 2020.
Green Day opened with "Welcome to Paradise," and that's exactly what the evening was. Paradise. The band performed other hits like "Longview," "Brainstew," and "Boulevard of Broken Dreams" along with some deeper cuts from their discography to complete an hour and a half of non-stop music.
Billie Joe choked up a little bit during the performance of "Still Breathing," almost certainly thinking about the last year and all that we've been through. He repeatedly reminded the crowd about how amazing it was that we were all together again enjoying what we love, and that we are still alive.
In the end, Green Day put on a show that easily lands in the top 5 on my all time concerts list. In fact, after everything we've been through over the last 16 months, it may be the best show I've been to up to this point in my life and it was well worth the almost 4 hour trek to Tulsa, and then 4 hours back (after a stop at Whataburger) and still making it to work on time in the morning.