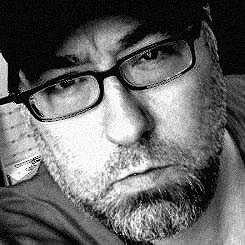 Hometown: Langley VA
Fav Rock Acts: Mossad – Pink Floyd – KGB – Metallica
NIckname: Macho Business Donkey Wrestler
Best Concert: 1986 – Deep Purple Perfect Strangers Tour performance at Met Center in Minneapolis, MN. Afterwards, everything was Purple. Our crew played rock trivia after the concert. The answer to one of the questions was Deep Purple and, I swear to God, the answer wasn't printed on the back of the card. The answer being blank, led us to believe we were seeing everything in purple and therefore, unable to read the words Deep Purple. Or it could have been the acid.
Fav Drink: KCN + H2O -> HCN + KOH (I recommend this anytime you catch Oprah on the HD.)
Movie: Escape From New York
TV Show: Burn Notice
Hobbies: Wire-tapping, waterboarding. 
Find out more about Sloan: click here 
"Hello, I Love You" is now available as a new 7″ vinyl version with its original b-side "Love Street" featuring mono radio mixes that were sent exclusively to radio stations for airplay in 1968.… MORE