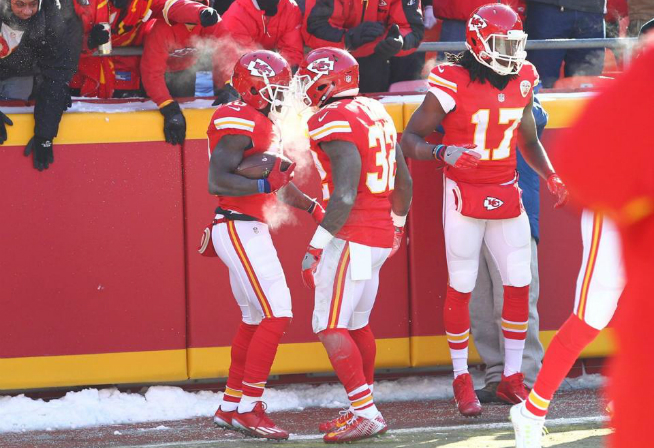 The Kansas City Chiefs squandered a multitude of opportunities, a fourteen point lead, and quite possibly the AFC West division crown; losing to the Tennessee Titans 19-17 at a frozen Arrowhead Stadium Sunday afternoon. Most of the anger and vitriol about this loss has been directed at Coach Andy Reid and his decision to attempt "Icing" the kicker. When it comes to that, let me start out by pointing out the obvious – it was 6 degrees outside, with a wind chill of 9 below zero! I think everyone, including the kicker, was well iced before the timeout was even called. Ultimately, that backfired and after missing the first attempt short, the 2nd attempt by former Chief Ryan Succop split the uprights; but it was far from the primary reason the game was lost. My takeaways and opinions on those primary reasons are right here:
Conservative play calling – The Chiefs have 2 players that will make not just the Pro Bowl but the NFL's All-Pro team for the 2016-17 Season! – Travis Kelce and Tyreek Hill – The two of them touched the ball a grand total of 4, yes FOUR times! Kelce, who had a chance to become the first TE in the history of the NFL to have 5 straight games of 100+ receiving yards, had 3 catches on 5 targets. Hill took a handoff 68 yards for a Touchdown on the Chiefs' second play from scrimmage, and didn't touch the ball again the rest of the game. You can't let that happen. No matter what the defense is trying to take away, you cannot basically leave your 2 biggest play makers out of the game plan. That's #1.
Bad Alex Smith showed up Sunday – After 4 years of Alex Smith being the Chiefs QB, we've learned that there's good Alex and bad Alex. Bad Alex was in there yesterday. He completed a mere 53% of his passes, threw for less than 200 yards, only averaged 5.8 yards per attempt, and threw an interception in the endzone for the second time in the last 3 home games. Sure he did some nice things on the day – like got a rushing touchdown and threw a great block on a 322 lb defensive tackle (seen here); but overall it was a bad performance for Alex. Yes, play calling contributed to it, but he missed a couple of throws that had nothing to do with play calling. That's 2.
The inability to convert in short yardage situations – Four times the Chiefs had 3rd or 4th and one or two, and each time they failed to convert. They tried running for it, straight ahead with Spencer Ware and another time tried an option play and Smith kept it. The Chiefs have been criticized a lot for not running conventional plays to get into the endzone or convert in short yardage. Well they tried them this week and failed. Maybe there's a reason they get creative in those situations. That's 3
Defensive let down at the end – Now far be it from me to criticize the Chiefs defense, because it has been great this year. However, Sunday, the Chiefs defense allowed too many rushing yards and allowed the Titans to get back in position for the game winning field goal, after they were pinned back at their own 25 to start the drive. The defense won't take much heat for that because it did force 3 takeaways, it did stop the 2 point conversion after the second Titan's TD,  and it did give up fewer than 20 points. Those are all good things, but the overall performance on the last 2 drives left us wanting a lot more. That's 4.
Those 4 things had far more to do with the loss than the decision to "ice" the kicker. That's one of those situations where you're damned if you do and you're damned if you don't. No possible way to know how it would work out that way. Ultimately, the Chiefs gave away the ability to control their own destiny for a postseason bye. Now, not only do we have to win out, but we also need the deplorable Raiders to lose one of their last 2 games in order to win the West and get that bye. Next up, we have those damn Denver Donkey's coming in to Arrowhead on Christmas Night for the final regular season home game of 2016. Merry Christmas to us, it's a must win game for both teams so it should be great. Pregame begins on Topeka's Rock Leader V100 Christmas Night at 6 with Kickoff at 7:25! Let's finish out strong at home Chiefs Kingdom!
Go Chiefs!