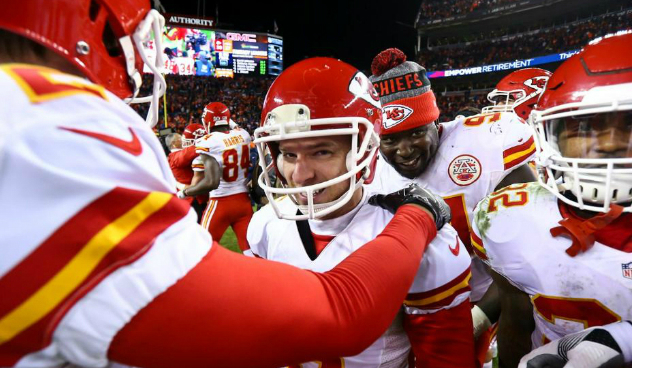 For the Kansas City Chiefs, Mile High has been a house of horrors over the years. Last night however, that all changed as the Kansas City Chiefs defeated the Denver Broncos 30-27 in OT!
The hero of the night was ultimately Cairo Santos, as his 34 yard field goal doinked off the left upright and went through in the closing seconds of Overtime. However, there are plenty of praises to go around from this game. The Chiefs defense stepped up in a big way in the first half, as the offense struggled to build anything against the vaunted Denver Defense. At Halftime the Chiefs lead 9-3, and it was due to a safety and a kick return TD, nothing to do with the offense at all. As the game wore on, the altitude started to take its toll on the defense, and the offense had to start making plays. After being ultra criticized (justifiably so) early in the game, Alex Smith came back and turned in a stellar performance leading the Chiefs to 3 scoring drives in the most intense and clutch of situations. The Chiefs went into this game 3-12 all-time in Denver since they opened their new stadium in 2001, and having only won back to back games in Denver twice since the merger (94-95 & 99-00). They were playing on Sunday Night Football, where the Chiefs were 0-5 all-time since NBC took over the event and it became the premier game of the week back in 2006 (Including 0-2 against Denver). They were missing Dee Ford, Jeremy Maclin, and Jaye Howard (amongst others) who have been huge contributors to this team. All of those things working against them, not to mention a defending Super Bowl Champion coming off of a bye at home as their opponent. I even picked us to lose this game 27-16. I didn't hold out much hope. But this team fought, they overcame all the odds, and they found a way to win and are now 8-3 on the season, with 5 left to play. My takeaways from last night.
Positives
Justin Houston is Back! And he is just as good as he ever was. He abused Ty Sambrillo in the first half, and did the same to Donald Stephenson in the second half. Stephenson fared slightly better than Sambrillo, but got away with a few holds in the process.
Rakeem Nunez-Roches – What a breakout game this kid had! Filling in for the injured Jaye Howard and doing so excellently. The 2015 6th round pick out of Southern Mississippi has come a long way since last year, and made a huge impact in last night's game.
Tyreke Hill – Speed Kills, and he killed it last night. The rookie receiver became the first player since The Kansas Comet Gale Sayers in 1965 to rush for, catch, and return a kick for a Touchdown all in the same game. Hill has a checkered past, that cannot be ignored. However, the kid has been a model citizen since coming to Kansas City. He's also paid his debt to society for his actions, and is actively working to make further amends to his situation. His talent is unbelievable, and the sky is the limit for what he could achieve in his NFL career. For now, he's proving to be an amazing pickup for the Chiefs.
Marcus Peters – he basically shut down half the field the entire night. It helped that Gaines was getting torched constantly (and I'll discuss that later), but NFL QBs are finally starting to respect the Kansas City Thief.
It was a total team effort! – Defense and Special Teams took care of the first 3 quarters. Offense stepped up late in the 4th quarter and in Overtime. It took all 53 men working together to pull off this one, and what an effort it was!
Negatives
Third Down – I sound like a broken record with this. Once again the Chiefs were largely terrible on 3rd down. The offense was 5/17 and the defense gave up nearly 50% (9/20). The Chiefs are 8-3 in spite of this, it bit them badly last week against Tampa Bay, they escaped yet again in this one.
Phillip Gaines – Gaines was targeted 8 times, he allowed 6 completions for 209 yards and 2 TDs. He proved to be the one weak link in the defense and he was exploited. The way his game went last night, it reminded me of the night Peyton Manning baptized Marcus Cooper by fire in 2013. Hopefully Gaines can bounce back next week against the Falcons.
Travis Kelce – yes, Kelce did make a couple good catches down the stretch. However, that doesn't excuse the 4 dropped passes he had. He said pregame, that he considers himself in the elite class of Tight Ends (with Gronk, Graham, and Reed). He needs to start playing like it!
Play Calling – I understand the game plan of don't let Denver's defense beat you. What I don't understand is the lack of commitment to the run game and Spencer Ware when that has been Denver's weakness all year. The Chiefs called 50 pass plays, as compared to 26 rushing plays. That's a ridiculous spread. Add to that, the majority of those passes weren't more than a yard or 2 down field. The offense did come through in the clutch, but good Lord was it maddening to watch for 3.5 quarters!
Other Observations
Denver's pass rush is one of the best in the league, and Von Miller is on another level than everyone else on it. After not allowing a sack in 2 weeks, the Chiefs gave up 6 in this one. Credit to Denver on that.
Our pass rush is just as formidable once Dee Ford returns from injury, and Justin Houston is on another level than everyone else too.
Both defenses layed the wood on the opposing offenses. This was a knock down, drag out, slugfest of a defensive struggle despite the ending high score. WOW, what a game.
If the Chiefs can put on 30 points on the NFL's best defense, then why can't we even put up 20 against the likes of Jacksonville and Tampa Bay?
Dustin Colquitt had another very solid day, he flipped the field a couple of times by pinning Denver back deep. Also set us up for the Safety, great day for a great punter.
James Winchester recovered a muffed punt for the game's only turnover. It's been just over 2 weeks since he tragically lost his father in Oklahoma City, I couldn't be happier to see him make that impact play.
Gary Kubiak is taking some flack for attempting the field goal late in OT from 62 yards out and giving the Chiefs the opportunity to come back and make one of our own. I'm sorry, as former Chiefs Coach Herm Edwards famously said "YOU PLAY TO WIN THE GAME"! That took guts, and it didn't work out. It was the absolute right decision, and I honestly don't know if Coach Reid would have made the same call in the same circumstance. Kudos to Kubiak for that.
The Chiefs have now won an unprecedented 8 consecutive AFC West Divisional games, including 5 straight on the road. That's incredibly impressive, especially considering how tough of a division the AFC West has been the last year or 2.
Ultimately this game puts the Chiefs in the drivers seat controlling their own destiny for the AFC West division title. They remain 1 game back of the hated raiders, but still play them again in less than 2 weeks on Thursday Night in Arrowhead. For now the focus turns to the Atlanta Falcons, who are exceptionally tough to beat at home. The Falcons are 7-4 on the season, and have the best QB-WR combo in the league with Matt Ryan and Julio Jones. That one will be interesting for sure, as always you'll be able to hear it on Topeka's Rock Leader V100. Pregame Sunday at 11, kickoff at high noon. Helluva win Kansas City! Let's do it again next week! GO CHIEFS!!!!!!
-McLuckie