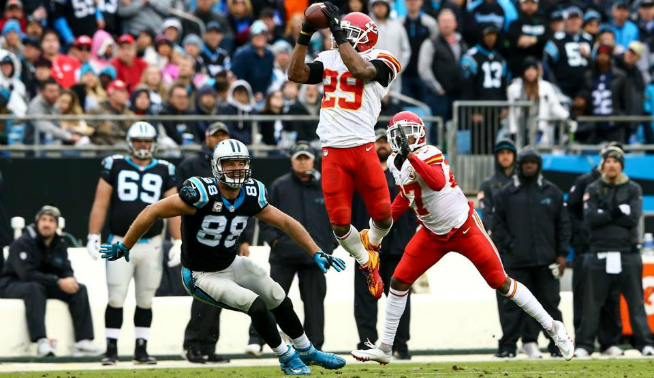 The Kansas City Chiefs took a page out of their hated rival's playbook on Sunday, winning a game they had absolutely no business winning. 
Let's be honest here folks, our Chiefs are incredibly fortunate to be 7-2 and in first place in the AFC West. Sunday, they were facing a Carolina team that for all intents and purposes had their season on the line. The defending NFC Champions had started the season 1-5 (much like we did last year), but were in the midst of a 2 game win streak and were at home. The Chiefs were without star WR Jeremy Maclin, starting DE Jaye Howard, and are still missing Justin Houston. This game was set up to where the Chiefs had to basically play flawless to win. They did anything but play flawless. After giving up a field goal on Carolina's opening drive, the Chiefs turned the ball over on their opening possession (our first turnover since week 4). Before long it was 17-0 Panthers and we were behind the 8-Ball. The halftime score of 17-3, followed by a miserable effort on the opening drive after halftime prompted this tweet from yours truly:
With 1st place in the AFC West on the line the #Chiefs come out flat and have looked completely lost since the opening kick. It's maddening

— Justin McLuckie (@m_c_luckie) November 13, 2016
I'm sure many of you felt the same way I did. The Panthers proceeded to ram the ball down the Chiefs' throats on the next drive. For ten, yes TEN, minutes they overpowered and bludgeoned the Chiefs defense. Converting 3rd down after 3rd down, moving the ball at will for 18 plays… and then Dee Ford sacks Cam, and the very next play Chris Jones sacks Cam and the Panthers have to punt. Carolina had a 20 play drive end with NOTHING to show for it. What was once a devastating, demoralizing situation all of a sudden breathed life into a Chiefs team that looked dead. The offense still couldn't get in the endzone, but that was ok, because the defense did! As pictured above, Eric Berry went up and picked off Cam Newton, returning it 42 yards for a Touchdown. Smith would hit Kelce for a 2 point conversion and we were within 3 points. Even after the Chiefs tied the game it still felt like we were going to find a way to lose it. Then Marcus Peters, the Kansas City Thief, came through in a big way, literally stealing the ball from Kelvin Benjamin and setting Cairo Santos up for the game winning field goal as the last seconds ticked off the clock. Despite not scoring an offensive touchdown the Chiefs had found a way to come back from 17 points down to win a football game. As the celebration died down in my household, a thought hit me. My Chiefs, just pulled a Denver. We did to Carolina, almost exactly what Denver did to us last year at Arrowhead in week 2. What Denver did to Oakland last year in week 5. What they did to Cleveland last year in week 6. The Kansas City Chiefs showed that they are capable of winning games any way possible, even games they have no reason winning. That Chiefs fans, THAT is unbelievably exciting. I said before the season started that I truly believed that the Chiefs had a legitimate chance to go to and win the Super Bowl this year. Despite one of the worst games we've played all year, I feel more confident in that assessment now than I ever have. So takeaways from this game? I'm just going to put them all into one list this week.
Alex Smith had a terrible game – Alex missed 2 sure TD passes on 1 drive. It seemed the only time he could make an accurate pass this week was when he was throwing to Albert Wilson…WHO CAN'T CATCH!!! The defense bailed Alex out in a big way this week. Just like he bailed them out in a big way week 1. That's called teamwork and it's a good thing. Alex isn't as bad as he showed this week, hopefully he can put this week behind him and come back strong against Tampa this weekend
What happened to discipline? – The Chiefs committed 9 penalties and for the 2nd week in a row committed more penalties than their opponent. These were stupid mistakes too – false starts mostly. Through the first few weeks of the season the Chiefs were the least penalized team in the league. Hopefully the coaching staff can reign this in a little bit.
Third Down is more than a problem – This week it was 2/12. For the season we are converting 3rd downs at a 34% clip, ranking 28th in the NFL in that category. That can't continue if we want to reach our ultimate goal. Yes, we're winning games in spite of it, but that won't last forever. Come playoff time, we're going to need to convert some 3rd downs.
Defensively 3rd Down is STILL a problem – Currently on defense we rank 26th in the NFL giving up 3rd down conversions at a 43% clip. It's a double edged sword, can't let 3rd downs be our kryptonite on both sides of the ball.
Dee Ford – Another sack for Ford brings his season total to 10 (and got Sloan another free Big Mac). I was his biggest critic and boy does my crow taste delicious.
Marcus Peters – The man dubbed the Kansas City Thief made another amazing play to win us the game. However, for the 2nd week in a row he punted the ball into the stands in celebration. He's lucky it only cost us 5 yards and not 15. I love this guy, but he has GOT to keep himself a little more under control on the field.
Cairo Santos – 4/4 day from our kicker. Santos has proven himself to be reliable and a huge asset for us this season. Way to go Santos! Way to go!
This week the Chiefs return home to take on the Tampa Bay Buccaneers. Tampa has a mobile and dangerous young QB. They have one of the top receivers in the league, and just got their top RB back from injury. The Bucs are more dangerous than their record indicates and it will be a tough test for the Chiefs. As always you can catch the game on Topeka's Rock Leader V100. Pregame Sunday at 11 AM kickoff at Noon. Let's go get another win and stay on top of the AFC West!
GO CHIEFS!!!!
– McLuckie