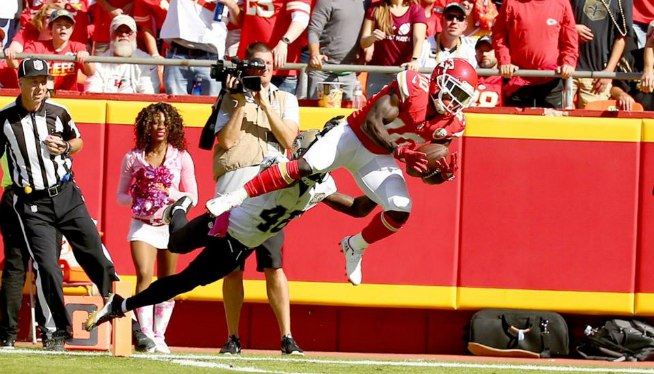 The Chiefs got a much needed win over the Saints on Sunday. They did it with a huge helping hand from the Chiefs Kingdom.
Without question the crowd played a major part in the victory. In all the Chiefs Kingdom forced the Saints into 4 False Start penalties and 2 Delay of Game penalties. Offensively the Chiefs were efficient when they needed to be. Alex Smith had a very Alex Smith day going 17/24 for 214 and 2 scores, he also picked up a few yards on the ground and even managed to avoid taking a sack. Spencer Ware did some good things both rushing and receiving the football, and rookie Tyreke Hill logged his team high 3rd touchdown reception (pictured above) with a beautiful catch on a well thrown ball by Smith. Defensively, it may not have seemed that great, but in fact it was an excellent performance for Kansas City. The Saints offense had come into the game averaging 31 ppg, and red hot after back to back victories where they scored 35 and 41 points respectively. The Chiefs held them in check at only allowing 21 points, but more importantly they took away the big play. The Saints lead the league in big plays on offense, Brandin Cooks has already had TD catches of 98 and 87 yards this season, and the Chiefs only allowed 1 play 30 or more yards, and even that didn't ultimately lead to anything on the scoreboard. Yes, all in all, it was a very nice win for our Chiefs, it moves the record to 4-2 and keeps pace with the hated raiders in the AFC West standings. As for the Positives and Negatives here we go:
Postives
Spencer Ware – He's such a great weapon to have. He averaged 4.5 yards per carry again on the ground, while also hauling in 2 catches for 54 yards and a score. He's a fantasy football phenom and with Jamaal Charles still ailing, he's proven to be the best weapon the Chiefs have.
Offensive line – How bout those big boys? Not a single sacked allowed (only 1 in the last 2 games), and paving the way for Spencer Ware and the other RBs to play well. Ever since the starting 5 got back healthy and together, the line has become a strength for this time for the first time in almost a decade.
Daniel Sorenson – The 3rd year pro out of BYU had a breakout performance. He notched 6 solo tackles, got a pick six, and managed to sack Drew Brees. Have yourself a day kid!
Negatives
Secondary – D.J. White and Steven Nelson to be specific. Both guys have been forced into much larger roles than they were expected to have this year by Phillip Gaines' inability to stay on the field. It shows, as teams are finally starting to just not throw at Marcus Peters and pick these 2 apart. They played a little better overall yesterday, but still not where they need to be.
Jamaal Charles – at this point it's been over 12 months since his ACL injury. I know he's getting older, and it was the 2nd ACL. However, the fact that he's still so limited that he can't contribute to the team is quite disconcerting.
Jeremy Maclin & Travis Kelce – has there been anyone else who has under performed more than these 2 this season? Granted some of it has to be put on the offensive scheme to spread the ball around so much (17 completed passes to 10 different receivers), but still. Maclin had a great debut season with the Chiefs with over 1,000 yards and 8 TDs. This year he's only crossed the goal line once and is on pace to finish with less than 800 yards. Kelce is one of the most gifted TEs in the NFL. Yet this season he can't seem to become a consistent part of the offense. It might not be entirely their fault, but 2 of the Chiefs most important players have been pretty much non-existent all season.
Other takeaways from Sunday:
Dee Ford is getting better. No he didn't show up on the stat sheet, save for 1 tackle, but he was being disruptive and was close to getting to Brees a couple of times.
Parker Ehinger is proving to be the steal of the draft for the Chiefs! The 3rd round pick out of Cincinnati has stepped in and is playing excellent at guard.
Tyreke Hill is the most explosive player the Chiefs have had on the outside, possibly ever. He is so incredibly fast and isn't afraid of anything. If he can keep his personal life under control, he could turn into one of the greats.
One more shout out to Daniel Sorenson for getting Sloan his Big Mac today.
Arrowhead advantage getting back to 90's level. The Chiefs have now won 9 straight at the friendly confines. Let's hope the streak continues all season
Looking ahead to next week, the Chiefs travel into the house of horrors that is Lucas Oil Stadium this week. Andrew Luck and the Colts are 3-4 on the season, and tied for 2nd place in the AFC South. Since 1990 the Chiefs are 2-13 in 15 meetings with the Colts, including 0-4 in the post season. Three of those are the most gut wrenching, heart breaking, and devastating losses in franchise history. When it comes to sports anguish, there is not a single team that has caused more of it in my life than the Colts. The last time the Chiefs played in Indianapolis, I know we all remember it, was the 28 point playoff collapse at the end of the 2013 Season. I'll delve deeper into this matchup on Friday, but suffice to say – IF the Chiefs are the team that we all believe they can be. Then they WILL go to Indy and beat the Colts. If we don't, we might be looking at things saying "same ole Chiefs" by the end of next weekend. Pregame on Topeka's Rock Leader V100 will begin at 11 AM Sunday with Kickoff at Noon. Let's get some redemption!
Go Chiefs
-McLuckie