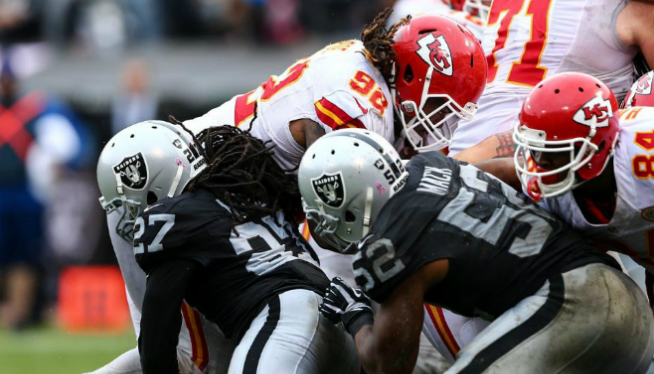 Monday after a win is always a good day, Monday after decimating the raiders on their sorry excuse of a field is a GREAT day! 
For the first time in 2016 the Chiefs looked like the team they were supposed to be from day one.  The offense wasn't spectacular, but they did enough to get the job done. They stayed committed to the run game, they didn't turn the ball over, and they put 26 points on the board (they were in position for 30 points, but bad weather and crappy field conditions took a toll on the kicker). Defensively they weren't "out of this world" great or anything but, like the offense, they were good enough. They got pressure on Derrick Carr, they forced a couple of turnovers, they put their offense in good field position, and most importantly they didn't commit stupid penalties.  Yes, it was a much needed, solid, and convincing win for the Chiefs.  Now it was just the raiders who, despite still technically being in first place in the AFC West through 6 weeks, are really still a young developing team that has a ways to go yet before being considered a contender. Nevertheless, they are still our most hated division rival, and they needed to be knocked down a peg. With the win, the Chiefs now sit firmly in control of their own destiny – 2-0 in the division, and equal to both the Denver Donkeys and the hated raiders in the loss column. The schedule also lightens up considerably as compared to what it was the first 4 weeks, and the Chiefs SHOULD (there's that word again) should be in store for a nice long winning streak in the middle part of the season. That all being said let's take a look at the good, bad, and ugly from this past Sunday, starting with the good:
Spencer Ware – The RB out of LSU had been ok the first 4 weeks of the season, putting up decent numbers but had inexplicably developed a fumbling problem. Despite sloppy and wet conditions on Sunday, Ware managed to tote the rock 24 times without putting it on the ground, while also averaging 5.5 yards per carry. Ware also got into the endzone for the first time since the opening week.
Jamaal Charles is back! – JC being back was a big boost for the offense. He didn't make a huge impact on the game (11 total touches for 47 total yards) but he did find the endzone once, and provided a great compliment and change of pace from the power style of Spencer Ware. At age 30 and coming off of a 2nd ACL reconstruction, Charles being in the complimentary role is what's best for him and what's best for the Chiefs, as he's proven time and time again that he is more than capable of doing amazing things even with a small workload.
Solid game plan offensively – It's truly amazing what happens when the Chiefs stick to the run! A running game is a Quarterback's best friend, and with the run being a key component of the game plan for the first time all season on Sunday, Alex Smith also had his most efficient game of the season going 19/22 passing for 224 yards.
Defense finally got a pass rush! Derrick Carr was the least sacked QB in football going into Sunday's game, and the Chiefs ranked 29th in the league in terms of rushing the passer. That didn't seem to matter much to them though, as the Chiefs were in Carr's face on several occasions, pressuring him into a errant pass (picked off by Marcus Peters), forcing a fumble once, and sacking him twice.
However, as I stated before. It wasn't a perfect day for the Chiefs. There were still some negatives to look at:
Phillip Gaines can't stay healthy. Gaines has been one of the bigger disappointments this season. When he's been on the field he's looked pretty good, but he can't ever seem to stay healthy.  He was a 3rd round draft pick for the Chiefs in 2014, and since than has only appeared in about half of the games he's been eligible to appear in. He went out early in the first half Sunday with a knee injury, and Amari Cooper proceeded to torch D.J. White and Steven Nelson for 9 catches and 102 yards in the first half.
Cairo Santos missed an extra point and a chip shot field goal. The field conditions were awful (I'll get to that in a minute) but still not an excuse.  Extra points and field goals under 38 yards have to be made, regardless of conditions, unless they're blocked. Santos did redeem himself with his other 2 PATs and 2 made field goals, but it definitely was a negative.
Finally there was one thing that were just plain ugly:
The Oakland Coliseum is not fit for play. Rain will make things difficult on any field surface, but especially that one. The turf was relatively fresh because baseball season just ended a couple of weeks ago, the ground was soft and slick, and it was just in abysmal condition. I've seen Jr. High football fields with better conditions than that one, the Coliseum is an eyesore. It's outdated, falling apart, and really an embarrassing place to play. I'm not surprised at all that the raiders are looking for a new home. Thankfully the Chiefs don't have to play there again this year.
Other observations
Marcus Peters picked off his 5th pass of the year to extend his league leading total. Still on pace to challenge Night Train Lane's all-time record of 14 in a season, and to break Emmitt Thomas' franchise record of 12 in a season.
Dee Ford made an impact! He was responsible for both sacks in this game, of course he was facing a 3rd string right tackle so you would hope he'd make an impact. Nonetheless it was a pleasant surprise and he is Sloan's hero for the day, as his 2 Sacks are good enough for free Big Mac's today!
Tyreke Hill continued his spectacular rookie campaign in the return game. Didn't bring one back to the house, but had a couple nice returns and none of them were called back this time!
D'Anthony Thomas was active for the first time this season, he even picked up a key 3rd down on an early drive to set up the Chiefs' first score. It was good to see DAT guy back on the field. Hopefully he can continue to make an impact.
Shout out to Big Dontari Poe! He caught a Touchdown pass from Alex Smith in the game, unfortunately it went down as a rushing score in the stat book because the pass was supposedly sideways, but the big man crossed the goal line! The beautiful moment is pictured above.
The Chiefs are now 6-1 vs the hated raiders since Andy Reid became head coach. Alex Smith is 8-1 overall against them for his career (6-1 as a Chief). I guess raider nation just needs to refer to them as daddy and granddaddy from now on.
The Chiefs extended their all time lead in the head to head series against the hated raiders to 59-51-2.
Looking ahead, the Chiefs are back home this coming Sunday against the New Orleans Saints. The Saints are a hot team right now, coming in with a record of 2-3, but winners of 2 straight against the San Diego Chargers and Carolina Panthers respectively. They have a GREAT offense, lead by future Hall of Famer Drew Brees and a dangerous corps of receivers. Their defense however, leaves A LOT to be desired. They also have a tendency to play poorly on the road. The Chiefs should win, but we've been a Jekyll and Hyde type of team this year. Time to shake the every other week curse we've seemed to be under and go win our 2nd straight game and get to 4-2 on the year. As always you'll be able to catch the game on Sunday on Topeka's Rock Leader V100. Pregame at 11 AM and kickoff at High Noon from the Chiefs Radio Network.
Screw the raiders, Go Chiefs!
-McLuckie