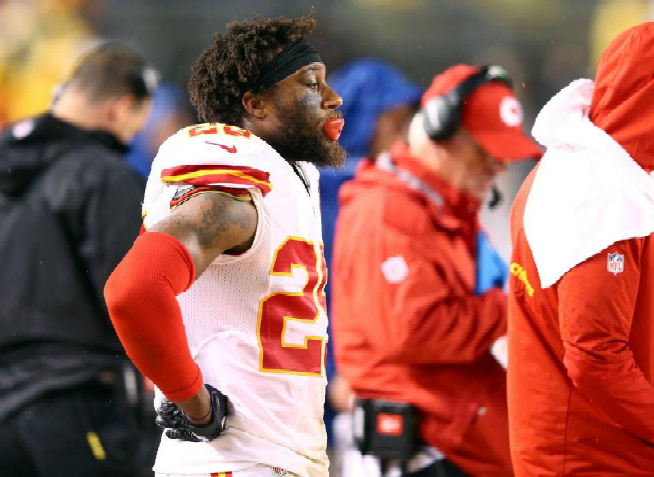 Are there really any words that can be said? 43-14 is pretty self explanatory. This game set up as a perfect storm for the Pittsburgh Steelers and it proved to be just that. They brutalized and decimated our Kansas City Chiefs on Sunday night at Heinz Field. Since NBC took over Sunday Night Football in 2006, it has really replaced Monday Night Football as the marquee game of the week in the NFL. Since that time the Chiefs have only played in 5 of those premier games, and after last night they are now 0-5. The Chiefs can't seem to function under the bright lights, and last night they embarrassed themselves, the fans, and really the entire city on National Television.
If you're truly honest with yourself, you (much like me) knew in your heart of hearts, that winning this game would be a tall order for the Chiefs. If you're anything like me, when the schedule comes out in late April/Early May every year you look it up and do a quick down the line "win, loss, win, win, loss" overview of how you think the games could/should go. Now, I don't know about you, but for me this was a game I had penciled in as a loss since, well back in late April/Early May. I fully expected the Chiefs to lose to the Steelers, after what transpired in weeks 1-3 this year, I even expected them to lose badly to the Steelers. That being said, last night was above and beyond a bad loss. What good can come from it? I normally go through and give you my positives and negatives from the game at this time. Well here's the list of positives:
Yeah, that's right, blank. There was nothing positive to take away from that pathetic display last night. Even Dustin Colquitt shanked a punt out of bounds. You might be thinking, "Tyreke Hill continued his torrid rookie season", but his biggest play was called back. For the 2nd time this season Hill returned a kick for a TD and had it negated by penalty. The Chiefs Special Teams have taken away 14 points and 106 return yards from themselves this season. Ridiculous. The list of negatives for this game is too long to fit into a single blog post, but I'm going to highlight the 5 biggest ones.
Offensive Playcalling – Andy Reid has called plays as the head coach of his football team for 18 years, and I think it's time he gives up that responsibility. The Chiefs have one of, if not the best backfields in the NFL and they come out throwing 5 straight passes to open the game. As always, coach Reid took "full responsibility" for the loss after the game. Well at some point, full responsibility should lead to change and evolution. Let someone else take that part of the job over. Certainly couldn't hurt anything.
Defensive Playcalling – Bob Sutton's unit looked completely lost from start to finish. They also failed to adjust in game. I get it, Gaines was hurt and you were down a man, but putting a rookie 6th round pick on an island against the best WR in football is inexcusable. Add to that the outright refusal to put Dadi Nicolas in the football game when pass rush has severely lacked this year and he showed in the preseason that he was capable of providing a pass rush. A few in the Chiefs Kingdom have been calling for Bob Sutton's head for a while, those voices have never been louder than they are today.
Alex Smith – he had an uncharacteristically bad night. The interception that he threw in the first quarter was horrendous. Not a decision he usually makes. He needs to come out of the bye week and show us something, because at this point he's played 1.5 good quarters of football in 2016 and for a guy who we had thought turned a corner in the 2nd half of last season and in that quarter and a half of the Chargers game. The last 3 games have me wondering where did the new Alex Smith go?!?! He seems to have regressed to the 2014 form of himself, and that's not good.
Spencer Ware – When did you forget to protect the football sir? I think all of us in the Kingdom wanted to see you learn from Jamaal Charles, but learn the averaging 5.5 yards per carry from him, NOT THE FUMBLING! Ware never fumbled as a rookie, he never fumbled in college…yet he now has 3 fumbles in as many weeks this year and that just can't happen. That's a correctable thing, sure, but it needs to be corrected ASAP if we want to see Ware make any impact the rest of the season.
Special Teams – I mentioned it briefly above, but can we just STOP with the penalties thing? Demetrius Harris committed a penalty costing Tyreke Hill a punt return TD. The illegal block wouldn't have even made a difference in the return, it was just a bad decision. Cairo Santos missed a field goal, Dustin Colquitt shanked a punt, just another example of what was truly a "Murphy's Law" night of football. Dave Taub is the best special teams coach in the league, so last night was an anomaly but it was just the cherry on top of that abysmal performance.
Alright, deep breath…ok. In the grand scheme of things this loss was just 1 game out of 16 for the Chiefs. This loss does not mean the season is doomed or anything like that. The extreme optimist in me says "hey, remember when we beat the Patriots 41-14 on Monday Night in KC and then they woke up and went on to win the Super Bowl? Maybe we could do that!". The realist in me says, we are going into the bye week at 2-2. We are winless on the road and undefeated at home. In order to get to the 11-5 record I predicted at the outset of the season I said we needed to go undefeated at home and just pick up 3 wins on the road. Well, we blew one of those winnable road games against Houston. If we want to be the "contender" we're supposed to be, we must regroup and hit the ground running against the hated raiders on October 16th. For now though, we head into the bye, a chance to get ourselves healthy and right before heading to Oakland in 2 weeks. So this week Chiefs fans, it's Go Chargers and Go Falcons knock those raiders and donkeys down a peg so we don't end up in too deep a hole heading into week 6.
Go Chiefs!!!
-McLuckie