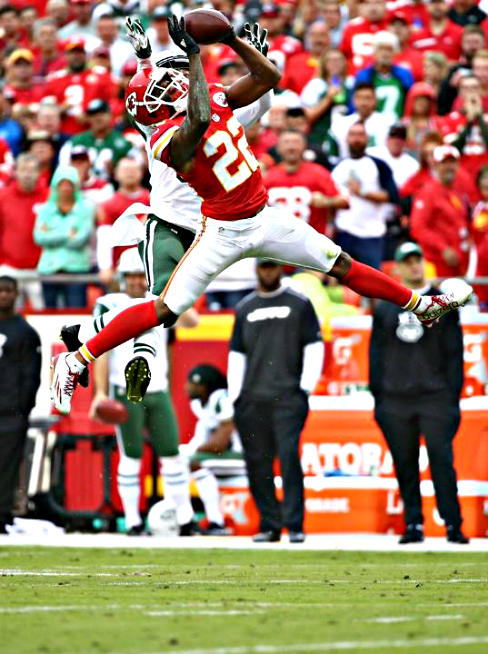 The Kansas City Chiefs tied 2 all-time franchise records at Arrowhead on Sunday – 6 Interceptions, 8 total turnovers – en route to embarrassing the New York Jets by the final score of 24-3. It was a breath of fresh air for Chiefs fans, as the team finally showed up and played 4 full quarters of football for the first time in 2016.  The Chiefs defense smothered the New York Jets' standout receivers, Brandon Marshall and Eric Decker, holding them to a combined 4 catches for 58 yards. They picked off the reigning AFC Offensive Player of the Week, Ryan Fitzpatrick, 6 times. They also scored 2 touchdowns of their own while keeping the Jets out of the endzone for 4 quarters. The Chiefs have now gone 7 consecutive quarters of football without allowing a touchdown on defense. Overall it was not a perfect performance by any measure, the offense did struggle quite a bit at times, however any time you win a NFL game by 3 touchdowns…you can't complain too terribly much.
Some Positives from Sunday's Matchup:
Defense wins championships, and the Chiefs defense looked as strong as ever against the Jets. Ryan Fitzpatrick, who has been a thorn in the Chiefs' side now for a few years, was overwhelmed from start to finish.
Marcus Peters got 2 of the 6 interceptions, giving him 4 now on the year.  Night Train Lane's record of 14 in a season has stood since 1952 but if teams keep throwing Peters' way, it could be in jeopardy. Now, the Chiefs franchise's single season record is 12 interceptions (Hall of Famer and current DB coach Emmitt Thomas had that in 1974), so that could also be in danger at the rate Marcus is going.
Travis Kelce caught his first TD of the year. It was nice to see him being more of a focal point of the game plan.
The Offensive line held up pretty well with a backup and 3rd stringer in at the respective guard positions. Only gave up 1 sack in the game.
 Alex Smith completed passes to 9 different receivers. The Chiefs have a lot of toys on their offense.
Now, I don't want to be a downer by any stretch. We truly dominated the game from start to finish out there yesterday, but I also consider myself a realist when it comes to this team so I'm going to be critical when the need is there. There were certainly some things to be critical of, such as:
Despite picking off Ryan Fitzpatrick 6 times, the Chiefs defense failed to record a sack in the game. Sloan will be very sad about the lack of Big Macs.
The Defense did still allow 5.3 yards per carry in the run game. That must be shored up before next Sunday.
Smith and the offense didn't take advantage of their opportunities. They were handed the ball 6 times off of turnovers (2 of the 8 were defensive TDs), and only managed to muster 10 points off of those opportunities. A win is a win, and you can't argue with it, but the offense needs to be more efficient.
The Chiefs went 7 for 15 on 3rd down (47%). A pretty significant improvement over the first couple of games, but it is still not even remotely close to being acceptable.
Other observations:
It was Alumni Day at Arrowhead. Tony "T-Rich" Richardson was inducted into the Chiefs Ring of Honor. It was well deserved and a beautiful moment to see in person. Tony Richardson was the lead blocker for those record setting offensive seasons had by Priest Holmes and others during the early and mid 00's.
I like the 3:25 start time actually. You could tell the crowd had plenty of time to tailgate as the stadium was really rockin'! The Arrowhead Advantage made a clear impact in throwing the Jets off kilter for most of the day.
Marcus Peters caught more Ryan Fitzpatrick passes than the receiver he was guarding for most of the game (Eric Decker) did.
Shoutout to rookie D.J. White for grabbing his first career interception!
Dustin Colquitt will never cease to amaze me. The punter pinned the Jets inside their own 10 yard line twice and gave the Chiefs' defense a major advantage.
I may observe this every week, but I have to say it again – Tyreke Hill is really, REALLY fast. Might be the new fastest guy in the league
Chris Jones is going to be an absolute monster. He didn't show up on the stat sheet, but he was wreaking havoc all over the place against a good offensive line.
Next up, the Chiefs have a massive task in front of them. They will play in prime time for the first time this year, a road game against the Pittsburgh Steelers. The Steelers were embarrassed by their cross state rivals, the Philadelphia Eagles, by the score of 34-3. Pittsburgh will also be excited to welcome back superstar RB Le'Veon Bell who has been serving a 3 game suspension for substance abuse since the season began. I'll be honest this game scared me as soon as the schedule came out. It scares me even more now that the Steelers are a wounded animal. Hopefully we can make it a good game for Sunday Night Football! Pregame coverage will start at 6:00 with Kickoff around 7:30 Sunday Night on Topeka's Rock Leader V100!
Check out photos from this week's game below…Go Chiefs!
-McLuckie