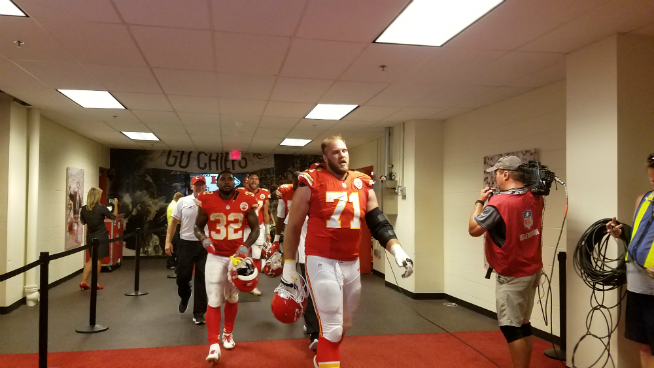 I sit here today, still in awe of what I saw at Arrowhead Stadium yesterday afternoon. The Kansas City Chiefs, my beloved Kansas City Chiefs, completed the greatest comeback in franchise history. Erasing an 18 point halftime deficit, which would grow to a 21 point 3rd quarter deficit and beating the San Diego Chargers in Overtime. I'll get to my takeaways in a minute, but first… I feel obliged to apologize:
To the Chiefs Defense – I know you were struggling in the first half, even you would admit that. But this tweet probably crossed the line.
#Chargers moving the ball at will. #Chiefs defense looks bad. Like Dick Vermeil Era bad. #SDvsKC

— Justin McLuckie (@m_c_luckie) September 11, 2016
To the Chiefs Kingdom as a whole – We were all frustrated.  I probably didn't need to go to THIS far in expressing it.
2 minute warning in KC. I'm assuming today's warning is #ChiefsKingdom you're in for a LONG LONG season.

— Justin McLuckie (@m_c_luckie) September 11, 2016
I've pretty much run out of words. This is a sad and embarrassing day for the #ChiefsKingdom

— Justin McLuckie (@m_c_luckie) September 11, 2016
Mass Exodus occurring at Arrowhead. The #ChiefsKingdom has seen enough

— Justin McLuckie (@m_c_luckie) September 11, 2016
I was having a virtual meltdown on Twitter. The team was flat, the press box was completely silent (except the angry typing of some beat writers), and the entire Chiefs Kingdom was feeling like all of the hope we had for 2016 was about to be snuffed out in the first week of the season.
But then it all changed. It started Small
The #Chiefs got a first down pic.twitter.com/z6i4smJHET

— Justin McLuckie (@m_c_luckie) September 11, 2016
And then got larger…
7 plays 75 yards and a TD. #Chiefs still down 14 but showed some life there. If the defense can get a stop. There is still hope #SDvsKC

— Justin McLuckie (@m_c_luckie) September 11, 2016
TOUCHDOWN KAN SAS CITY!!! Smith hits Maclin. #Chiefs still down double digits, but the offense has showed some life late. #SDvsKC

— Justin McLuckie (@m_c_luckie) September 11, 2016
And finally culminated in
#CHIEFS WIN

— Justin McLuckie (@m_c_luckie) September 11, 2016
The national narrative on the Chiefs will change after yesterday. Alex Smith is not known for leading his team back from a deficit. As a matter of fact, in games in which Alex Smith is the QB and his defense gives up at least 20 points, after yesterday his record is only 10-41-1 all time. Alex threw for 363 yards yesterday, making the the FIRST time, you read that right, the FIRST time in Alex's career where he has thrown for over 309 yards and his team has won the game. Smith showed what he is ultimately capable of in a clutch situation. We haven't seen it often but we saw it yesterday and ultimately the Chiefs pulled off the largest comeback in franchise history allowing us all to celebrate the beginning of 2016.
My takeaways from the game –
Spencer Ware is a GREAT running back. 199 total yards and a touchdown to boot, averaging 6.4 yards per carry. Those are Jamaal Charles-like numbers and he could be the future at RB in KC.
The Offensive line is much better than it has been in recent years, Smith was sacked 3 times, but all 3 were coverage sacks. Can't blame the line for those.
The Chiefs, for the first time in years, appear to have multiple legitimate playmakers on offense – Ware, Charles (when he returns), Maclin, Kelce and now even Tyreke Hill and even Chris Conley showed some flashes. This offense has the capability of scaring people.
Defense needs work

Marcus Peters needs to gain some maturity. Keenan Allen was in his head all day until he left injured. Peters can't let guys get to him like that
Pass rush was virtually non-existent for much of the game, the Chargers don't have a great offensive line either. Guys need to step up until Houston gets back.

Special teams have a chance to be Special this year – Colquitt was consistent as always, Santos looked great on both kickoffs and scoring kicks and Demetrius Harris really does a great job in coverage.
Finally, a shout out to Dee Ford for welcoming Philip Rivers to #sacKCity and getting us the free Big Mac's in the 4th quarter of the game.
Next week the Chiefs are on the road to take on the 1-0 Houston Texans at NRG Stadium in Houston. Pregame Sunday at 11 AM Kickoff at Noon right here on Topeka's Rock Leader V100!
Check out pics from this Sunday Below and as always GO CHIEFS!!!!
– McLuckie