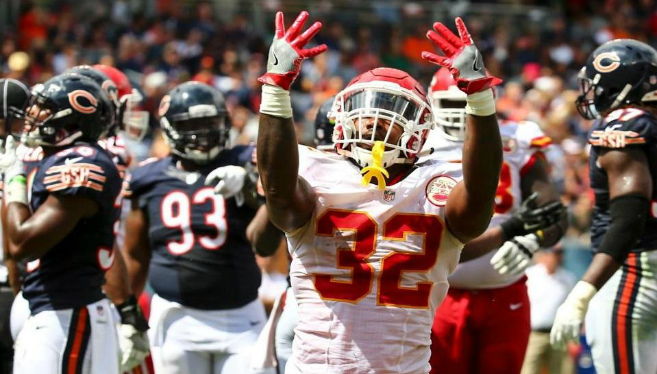 What a dominant performance put on by the Chiefs this weekend in Chicago! The first team defense showed major progress in holding the Bears first team to just 20 yards of total offense in the first half.
Now, some of that was due to poor execution for the Bears (a dropped pass by Alshon Jeffery when Marcus Peters fell down on a route comes to mind) but for the most part the Chiefs defense owned the Bears at the line of scrimmage from start to finish. Defensively I couldn't have asked for a better performance out of the starters. Offensively however, I did have some minor frustrations. Overall though, a near flawless victory for Kansas City in the "dress rehearsal" game of the preseason. We sit less than 2 weeks away from kickoff to the regular season and with the daunting task of taking this roster down to the final 53 men by the end of the week. Going into Saturday's game I laid out 3 things I was looking for in this one and I think the report came back solid.
What would Phillip Gaines look like opposite Marcus Peters at corner? Gaines looked pretty good. He is the reason why the Chiefs made virtually no effort to retain the services of Sean Smith in the off-season. The 3rd year player who spent the majority of his first 2 NFL seasons hurt has a big load to shoulder this year, and hopefully is up to the task. No matter what though, the secondary as a whole looked much more cohesive as a unit than they did in preseason games 1 and 2. Gaines had a lot to do with that, and on top of that, Eric Berry is back in the fold as of Sunday afternoon so all in all, I'm much less worried about the secondary than I have been.
Will we see more consistency on both sides of the ball? That was a resounding yes on defense, consistently excellent from start to finish from the first and even second team players.  On offense it was mostly a yes too. We moved the ball pretty consistently, but we settled for 3 points too many times. I know that technically the correct move is taking points when they are available, but it's preseason! Why not go for it and practice executing in pressure packed 4th down situations? Referring specifically to the 4th and 1 we had at the Bears 2 yard line right at the beginning of the 2nd quarter. No reason to settle for 3 there in the preseason. Outside of that though, Alex Smith looked in mid-season form. Kelce and Maclin continued to look good, the running game appears on track…and that leads me to #3.
Would Chris Conley continue his impressive offseason? This kid looks good. It is going to be so much fun to watch him play this year. He seems to be in perfect rhythm with Alex Smith and may even have the ability to give the Chiefs a legitimate deep threat to back the defense off the line of scrimmage and give the 3-headed-monster of a running game we have a chance. He's definitely the player I'm most excited about in Kansas City this year.
Beyond those key things, other observations I had:
Justin March reminds me of a young Zach Thomas the way he flies around out there. That kid was immensely impressive last year at training camp before getting hurt, and he picked up right where he left off this year. Don't be surprised to see him starting next to DJ against San Diego week 1.
Chris Jones is a BEAST. That kid has length and power for days. He was the first player taken by the Chiefs in the 2016 draft and appears to be someone capable of making an immediate impact on the defensive line.
Tyreke Hill is going to be exciting to watch. Off-the-field issues aside, the guy is a rare talent and brings a dangerous element to the Chiefs' lineup.
Nick Foles looked very comfortable leading the Chiefs to a TD on his only drive of the game. Nice to have a veteran backup behind Alex that could come in and win some games in a pinch.
Thank the Lord we avoided major injuries. Always hold my breath until the starters are out of the game for no injuries and this year the Chiefs (knock on wood) appear to have come out of the preseason fairly healthy.
Feel really bad for the Bears' Connor Shaw, his season is done after suffering a broken leg with 2 and a half minutes left in the game. Injuries suck no matter which side you're on. That being said, after the game he called the hit a cheap shot…I didn't see that, it's terrible you got hurt, but don't try to create controversy that isn't there.
Finally, Roster Cuts happen tomorrow (Tuesday) and then again on Saturday the final cuts happen to get down to the 53 man rosters. Here are 4 "bigger" names that, in my opinion, won't be wearing Chiefs red in 2016 and a couple others who I would put on the watch list for surprise cuts (they'll be noted with a *):
Knile Davis – he currently sits 5th on the RB depth chart, and Tyreke Hill has proven that he can return kicks just fine. It's been fun Knile, but your time is up.
DeAnthony Thomas (aka DAT guy) – DAT hasn't really been involved thus far, and after the odd turn of events last year after his concussion… there's just no place for him.
Tyler Bray – guy just can't stay healthy. It's possible they stash him on IR again to keep him around, in which case they'll cut Aaron Murray, but ultimately I think Bray's days in KC are through.
Marcus Cooper – just too many bodies in that defensive backfield, he was a nice find for a few weeks in 2013 until Peyton Manning exposed him, outside of that he's not been good and he appears done.
*Josh Mauga – DJ's cohort in the middle of the linebacking corps. He hasn't been healthy and all of a sudden Justin March, Ramik Wilson, and DJ Alexander have made him expendable. Mauga may be done.
*Albert Wilson – he hasn't had a great camp or preseason and with the emergence of Tyreke Hill and Chris Conley, the free agent acquisition of Rod Streater, along with this franchise's fascination with Frankie Hammond Jr, Wilson may end up the odd man out at receiver.
That puts a wrap on this week. Don't forget the Chiefs final preseason game is this Thursday, Sept 1st at Arrowhead against the Green Bay Packers! Join us out at The Lazy Toad for a watch party beginning at 4:00! And as always, Pregame at 6 & Kickoff at 7 right here on your home of the Chiefs Topeka's Rock Leader V100!
– McLuckie